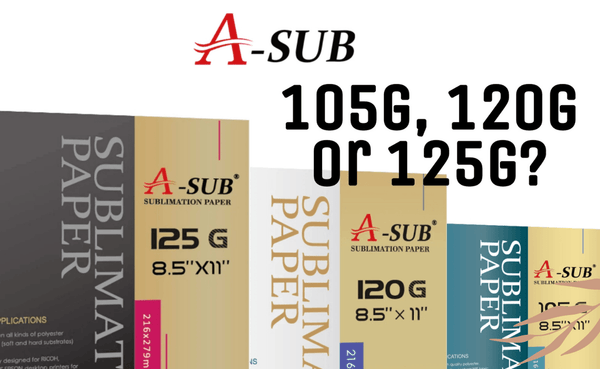 How To Choose A-Sub Sublimation Paper Between 105g, 120g And 125g?
The meaning of the numbers, 105g, 120g and 125g
The numbers 105g, 120g, and 125g reflect the weight of the paper per square meter (in grams) (before cutting). After being cut into a size suitable for retail packaging. For example:

8.5 X 11 size paper, the difference between the three options of 105g, 120g and 125g. is the weight. And because the dimensions are exactly the same, the difference lies in the thickness of the paper.
What caused it to thicken?
The change in thickness is related to the paper itself and the amount of sublimation coating. Thicker coating, more saturated sublimation paper can more effectively deal with the saturation of thick ink. The thinner sublimation paper is very suitable for your light-colored ink saturation needs.
Designs suitable for different weights
A-Sub 105g:Best for designs with light to medium ink saturation.
A-Sub 120g:Most suitable for medium to light saturation ink design
A-Sub 125g:Best for printing designs with very high ink saturation
How to tell if you are using the correct sublimation paper?
If your work is going well and your design is clear, then you must have the
right paper. However, if any of the following problems occur, try to replace the paper as follows:
My paper always curls-try to increase the weight.If you use 105g, increase to 120g, if you use 120g, increase to 125g.
My papers always have wheel marks-go in theopposite direction. If you are using 105 grams, increase to 120 grams. If you are using 120 or 125 grams, please switch to 105 grams. If the problem persists, clean your printer thoroughly.
Variable saturation design: If you often print a designthat includes both light ink saturation and heavy ink saturation, please keep it in the middle of 120 grams. If you use 105g, the heavy part of the design may move, bleed or double-image.
My hard/rigid blank is ghosting: The ink has nowhere togo, and there may be too much to deal with. Go to the lowest grammage.
My T-shirt looks faded, but all the ink is transferred, thegrammage has increased because it accepts more inks.